Murandano-One are a Spanish manufacturer of beautiful handmade leather handbags, the attention to detail is exceptional as are the beautiful materials and colours they use.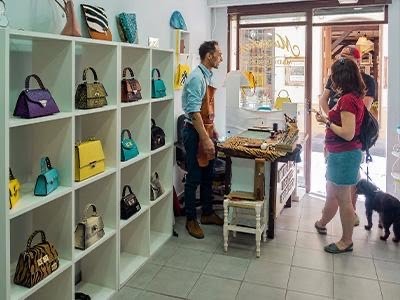 Amancio (Tito) the owner has been making bags for many years and has acquired skills handed down from previous generations of master craftsmen. In 2020 his shop in the ancient city of Ronda Spain was forced to close due to Covid restrictions, his business which is fuelled by tourism was clearly badly affected.
The former Muradano business had a limited online presence which in these unprecedented times has played into the hands of online businesses.  As a friend of the owners, I decided I could not watch them struggle to survive when I have the skills to help the business become something more.
Muradano-One was born! The concept I agreed was based around the most popular bag they sell which is absolutely stunning even for a guy! This bag would become the ONE, but with Many Options, by developing a website to promote this unique style of bag the intention is to capture the creativity of the purchaser which Amancio then turns into a bespoke bag.
Key to the web development is a configurator system that allows the bag design to be changed by the purchaser, size, colour, material type, cut and even the colour of the interior leather.
The web site which will go live in advance of all our intended development is ready for some special marketing treatment and targeting, limited funds mean that whatever we do has to be carefully managed.
 A product which would likely benefit from influencer endorsement is out of the question financially, micro influencer contacts we have around the world might help. But importantly in this whole process is timing, we need to hit the ground running with sufficient content to meet the social requirements, posts, news on top of optimsed SEO. SEM is something that we need but again budget constraints might mean we get to this this a bit later if the sales arrive.
For now it is a great pleasure to represent the Muradano-One bag brand in its journey to create beautiful bags for customers around the world.
The Muradano-One journey has just begun. 
Its an exciting journey for Muradano-One but also for Evolution Advance and our passion to help small businesses exploit the excellent products and services they offer.